Atlanta Rideshare Accidents Attorney
From Uber to Lyft to Juno to Gett to Wingz to countless others, ridesharing has become an increasingly common way for many people to get around the Atlanta area because a variety of rideshare apps make it easy to book rides on a moment's notice. Ridesharing vehicles share the same roads as other motor vehicles, so accidents are always a possibility and passengers in ridesharing vehicles can face a difficult path to recovery.
While some ridesharing companies are often owned by large companies, most ridesharing drivers are classified as independent contractors to help minimize liability for the major companies operating ridesharing services. Depending on who the negligent party in your case is, you are likely going to be dealing with an insurance company that wants to pay you as little as possible.
Causes of Rideshare Accidents in Atlanta
Many different kinds of people can be involved in rideshare accidents. Some of the possible claimants may include:
Drivers of other motor vehicles
Passengers in rideshare vehicles
Pedestrians
Bicyclists
Surviving family members of people killed in rideshare accidents
Rideshare drivers are often trying to make as much money as they can by driving as much as possible, so distracted driving is one of the most common causes of rideshare accidents. Rideshare drivers can easily be so invested in navigating apps on their cell phones that they fail to pay attention to the road.
Many other causes of rideshare accidents can include:
Driver Fatigue
Speeding
Vehicle Maintenance Issues
Driving Under the Influence (DUI)
Traffic Violations
Rideshare Accident Injuries in Atlanta
People who are involved in rideshare accidents can suffer a wide range of injuries that often includes positively life-changing elements. Many such injuries require months, if not years, of rehabilitation, and several people are never really fully the same as they once were.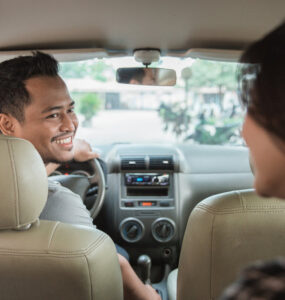 A few of the more common kinds of rideshare accident injuries include, but are not limited to:
Fractures or broken bones
Concussions
Skull fractures
Closed head injuries
Traumatic brain injuries (TBIs)
Spinal cord injuries
Paralysis
Back injuries
Knee injuries
Leg injuries
Neck injuries
Arm injuries
Internal injuries
Permanent nerve injuries
Amputations
Severe burn injuries
Wrongful death
It is important to note that some people could also be victims of violent acts by their rideshare drivers, with some people being sexual assault victims. Criminal charges may be possible in these cases.
Filing a Rideshare Accident Claim
Chances are very good that the insurance company for the negligent party in your case is already working on ways to minimize its liability. The insurer may contact you and offer you a lump-sum settlement that seems somewhat generous but does not actually account for the full lifetime of costs you are going to be dealing with.
It is important to retain legal counsel as soon as possible after a rideshare accident because there may be multiple liable parties in your case. You want to be sure that every single party is held accountable and you can recover as much financial compensation as possible.
When you hire a personal injury attorney to help you navigate the legal process, you will also get assistance in obtaining the best possible medical care for your condition. A lawyer will know how to negotiate an agreement with a hospital so you can pay your bill out of your settlement or judgment.
Why Choose Shani O. Brooks P.C. to Represent You?
Shani Brooks is an experienced personal injury attorney who works closely with his clients so they always know what is going on. Our firm focuses on providing personalized attention for all clients regardless of case size.
When you have been involved in a rideshare accident in the greater Atlanta area, contact Shani O. Brooks P.C. at 404-920-4736 to set up a consultation. We will work hard to ensure that you are able to recover every last dollar available to you.